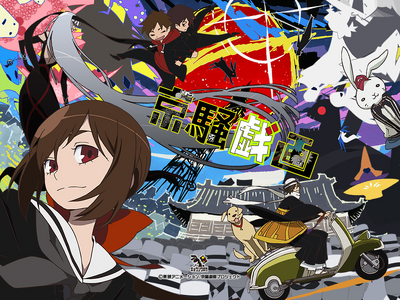 Kyousogiga (京騒戯画) is an original net animation that premiered in Winter 2011. The anime is made by Toei Animation and Banpresto and aired in Fall 2013. It consisted of 10 regular episodes, 2 introduction episodes, and a special episode.
Koto and her brothers, A and Un are stuck in a strange city that is like Kyoto, but not at the same time. During their time there, they are searching for an atypical rabbit in order to return home but are causing massive mayhem through the land. Koto, who is the eldest of the three, seems to have some sort of connection to this weird place ruled by a monk, a demon, and a priest.
Characters
Edit
Episodes
Edit
TV series
Edit
Ad blocker interference detected!
Wikia is a free-to-use site that makes money from advertising. We have a modified experience for viewers using ad blockers

Wikia is not accessible if you've made further modifications. Remove the custom ad blocker rule(s) and the page will load as expected.